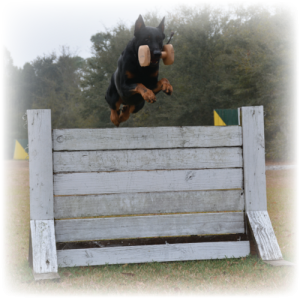 I have a small kennel which consist of dogs from France, Belgium, Czech Republic, Croatia and Spain. I'm very lucky to have extensive European connections which allow me constantly improve my breeding program based upon their mentorships.
I fell in love with this breed after doing an extensive internet search while looking for a dog that is protective, energetic, smart, loyal, and passionate but can still be a wonderful family companion. I enjoy that I can train this breed in protection, obedience, tracking and still have a dog that can cuddle with me at the end of the day. While I enjoy Dobermans, Rottweilers and German Shepherds – I feel the Beauceron offers all the best traits of each of those breeds.
My breeding program was established to promote and improve the Beauceron with every litter I produce. With that in mind, I chose dogs from many different and elite kennels in Europe. It was important to me to find dogs that will complement each other and allow me to produce a bloodline that isn't yet established within the USA. ARC Beaucerons prides our breeding program in maintaining the pureness and original integrity of this amazing breed.
Jacqueline Adams
5690 Sarah Ave.
Sarasota, FL 34233
914-232-0616
jplank7294@aol.com
www.arcbeaucerons.com
Facebook
ABC Member Since: 2013