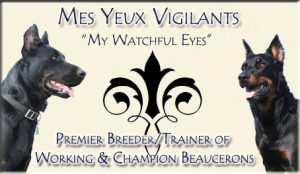 In 1989 I got my first Beauceron from a noted French breeder. That Beauceron was International Champion Epic Des Fugues de Saint Alban and my foundation bitch. Epic was the first female Beauceron certified to do police work and was featured in "Dog Fancy" in 1993.
I am certified to teach people as instructors of assistance dogs. I have also worked for the United States Air Force as an evaluator of Bomb dogs and as an instructor. I am a member of the American Beauceron Club, Canine Good Citizen evaluator, Delta Society Member, MOKAN Pet Partner member and Center Place Business Association member.
My Beaucerons have competed in herding trials, conformation, agility, obedience, and schutzhund. Mes Yeux Vigilants has bred multiple winning dogs at our Journee', which is the equivalent of a National Specialty Dog Show. Our brood bitch is the first female Beauceron to earn her American Championship. She also is an International, Mexican, and World Champion. Mes Yeux Vigilants strives to produce high quality and healthy Beaucerons.
Susan Bass
Mes Yeux Vigilants Beaucerons
816-796-6444
816-256-7765 c
susanbass@sbcglobal.net
www.usabeaucerons.com
Facebook
ABC Member Since: 2011