Robyn Salley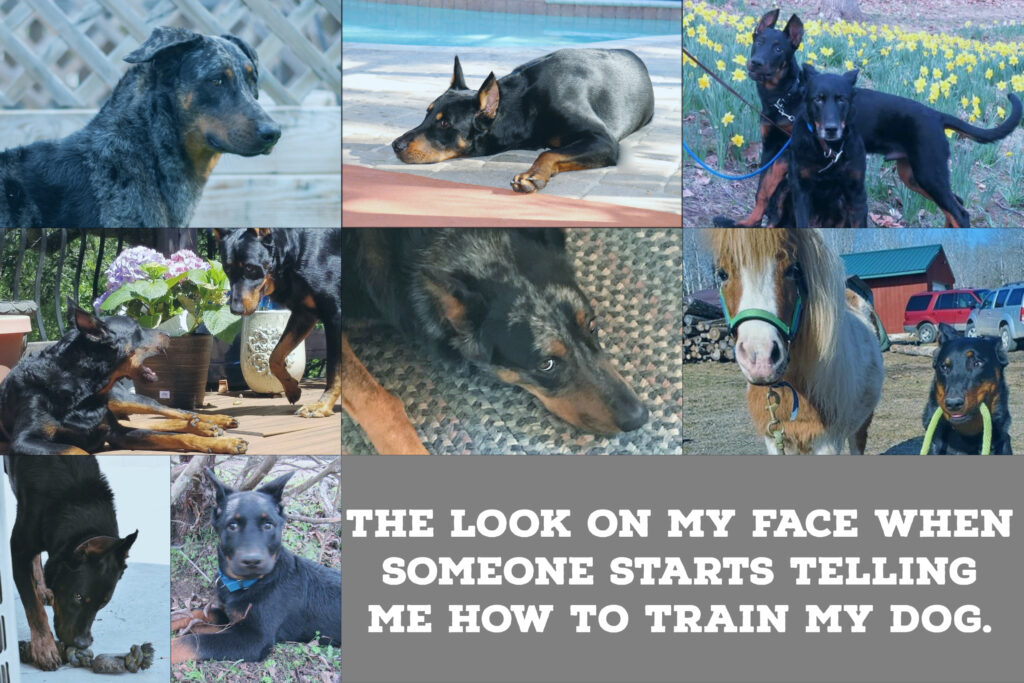 When I first arrived in Austin, I was starved for dog sports. I was still commuting back and forth from NYC and crashing with a fellow ABC club member, Marissa, while I managed my transition. My very first week in town, Marissa invited me to a free dog class at a local park. I was extremely nervous about making it on time so I ended up being 30 minutes early! That is where I met Jo Lynne. She welcomed me even though I didn't even have a dog! I quickly learned that she runs her conformation classes with care, class, and a strong eye to improving you just as much as your dog.
When I finally got the rest of the household moved to Austin, I started attending with Nyko just for the experience. At the time, there were two other Beaucerons who attended class. Now, at the end of 2020, we have six that attend class any given week! Jo Lynne has been fantastic with the breed – working with their aloofness and desire to make their own decisions. I have learned an incredible amount from her in a short period of time and I thought she was an excellent choice to do an interview with given her tenure in the sport and exposure to the breed.
How long have you been active in the sport?
I started showing dogs in 1972 when my mother put me and her first show dog, a Lhasa Apso named Mandy, in a fun match. I was too short to put my dog on the table and the judge had to help me. The dog promptly laid on her side. When we did the down and back she shat in the ring. I won the sportsmanship award that day. I assume it was for the kid whose dog soiled the ring or hit her and she didn't cry about it. I still have the trophy – small silver bowl. So, long story short, rapidly approaching half a century.
When was the first time you worked with a Beauceron?
I met my first Beauceron when they were just about to leave the Miscellaneous group and go into Herding. I think this was around 2007 time frame. He was at an Australian Cattle Dog national specialty in WA state with his handler, Kris Read. He was aloof and completely focused on Kris. The first one to come to class was a young, rambunctious teenager who nipped at me every time I touched her. I think it was a game to her. There was no malice in her, but she did have a particular glint in her eye. I think she was laughing at me.
What should someone who is just starting in conformation look for in an instructor?
Experience. How long have they actually competed in dog shows? Have they shown more than one breed? Do they know what a Beauceron is and the breed's original purpose? Have they ever shown a Working or Herding breed? Can they answer your questions about dog show procedure? If not, can they help you find the answer? This has more to do with how a Working or Herding breed should be presented than anything else. (Hold the head for the judge during the exam, how to examine a Beauceron bite. These things are not required in other groups.)
What is the most challenging aspect of the breed, relative to other breeds, that you have experienced?
Bending over to touch the rear dews with a bad back. They remind me a lot of both Cattledogs and Anatolians – intelligent, aloof, busy like the ACD. I expect their intensity is the most challenging thing about them for people who live with them. I actually like the breed a lot, although I suspect they're a lot like ACD and they get better with maturity.
What has surprised you about the breed, good and/or bad?
It's a super intelligent breed. The first one that came to class was a little bit of a pain in the rear and I halfway hoped the dog wouldn't come back. She was the first of her breed that I spent any length of time around. Her people kept coming back with her and she got better and better at everything we asked of her with just the slightest amount of work. I find myself really liking the breed a little more with every one that I've met. You can see them thinking, weighing options, making plans – moreso than a lot of other breeds. There is an impish sense of humor tied to that intelligence. Don't let that get bred out of them and watered down.
Do you have any advice for Beauceron owners when they're choosing which shows to attend?
Start local. Start small. Find a local show where you aren't driving three hours to get there, and there aren't 3,000 dogs and enter it. If that goes well, enter the 3,000 dog show next.
Any other thoughts or advice?
Remember that it's just a dog show and just an opinion. You go home with the same dog you showed up with. Take a picnic lunch and a friend for moral support and make it an enjoyable day out with your dog that just happens to be at a show. Set reasonable goals – best of breed is not outside the realm of possibility but I like to start with just remaining upright when I run around the ring. Wear comfortable shoes. Bring a chair and water for you and your dog. Make friends in other breeds so that when the dog show life turns on you, you still have people you can turn to for support. For the dogs – Socialize your dog. Even if you don't think you're ever going to seriously show your dog, take it to classes and get it accustomed to being handled by people and being around other dogs.