Sarah E. Price
Instinct: An innate, typically fixed pattern of behavior in response to certain stimuli, from the Latin instinctus for impulse
Venturing into any new activity or sport can be daunting, and the foray into herding can be especially overwhelming. Unlike most canine sports, you have to determine if your dog has some level of instinctual herding capability before you can actually start learning to herd! A herding instinct evaluation is this first step. There is also a certificate issued to AKC registered dogs if they pass a formal test under a herding judge (Herding Instinct Test or HIT–not a title). You can see what an AKC judge is assessing in a HIT here. However, a trial is probably not the best place to expose your dog to livestock for the first time.
While Beaucerons are notoriously biddable and eager to work, there are some things that cannot be taught. The innate genetic desire to herd is one of those things. Although we partake in this traditional job as a sport today, generations of Beaucerons were selected and bred because of their behaviors toward livestock. It is hardwired into their genetics, in some more deeply buried than others, but some level of instinct is present. Training a herding dog is simply bringing those instincts out (principally the search, stalk, chase of prey drive) and molding it to perform desired tasks.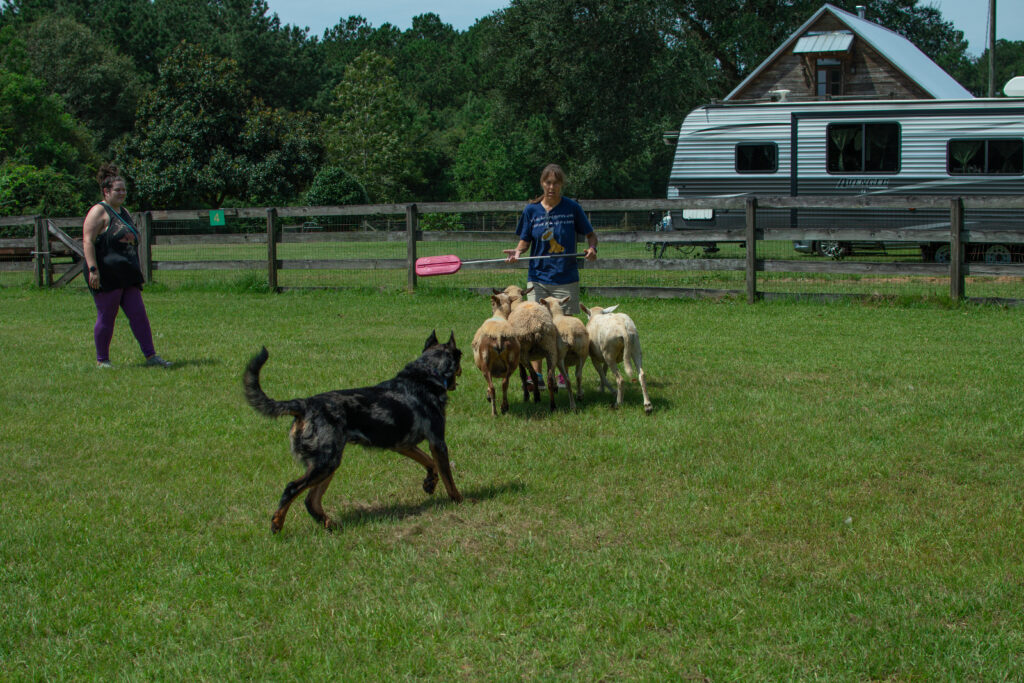 Although it sounds relatively straight forward, there are several key aspects to an instinct evaluation. A herding instructor is looking to see if the dog has some sustained interest in the stock, if their drive is appropriate, and if they are biddable to working with a handler to gather or fetch stock. For a potential trainer to assess a new herding prospect, they are going to set up the dog to have a positive and successful first outing around stock. This means that they are going to be in a small, controlled environment, with tame, dog-broke stock who are used to the general type of dog (hopefully). For a puppy especially, there should be no negative experiences during their first exposure. This means no corrections, no getting stepped on, or charged at, by stock, or squished against a fence. Also, no corrections from the owner for what can be perceived as "bad" behavior.
A trainer assesses multiple facets of the dog's outing. Is the dog is trying to control how the stock moves, does it want to stop them, keep them together? Further, does the dog move around a loosely grouped set of sheep to prevent runaways? Does the dog "see" all the stock, and if a naughty sheep splits off does the pup see them, does it attempt to bring it back to the group? Does the puppy want to bring them to the trainer/owner/handler? Can the dog get the stock off a fence line or out of a corner, on their own or with some handler support? Will the dog change directions easily (believe it or not, dogs have a preferred direction, or 'handedness' like humans), and how far off the stock is it seeing and making these adjustments? All of these questions are being answered during an evaluation of a herding dog's instinct.
Most herding training sessions are not very long, and the initial evaluation will not last long at all. You will likely have a short session on stock, followed by a period of rest, and possibly a second session. The length of time and number of sessions will depend on the age and response of the dog being tested.
---
Watching a herding instinct evaluation is probably one of my favorite parts of attending training. I had the pleasure of watching several Beaucerons on stock for the first time at the facility where I train. These were different dogs of different ages and from different lines. You will notice in the videos below that both puppies begin quite differently, but the endings are similar.
This puppy is obviously confident around sheep from the beginning. Notice the trainer drops the leash shortly into the session. One of the nice things you can see in the video is how she kicks herself out and around the sheep, particularly when one goes astray. You can also see that she takes the direction of the trainer well, obeying the pressure to change direction or move out. Toward the end you can see that she is feeling the balance between the trainer, sheep, and herself. Notice how she is taken off the field, being brought around to get another feel of moving the sheep, and then walked out still wanting more.
This second puppy was not quite as sure of herself, and her leash stays in hand during the first video to provide her guidance and support. She is definitely interested just not as confident to start.
A few sheep are removed from the field, and the session resumes in the second video. She is more confident but still wants to check in to make sure she is doing good.
This puppy was put up for about 45 minutes and then brought back out to work again. In the third video you can see how much more confident she is on her second run and how she is starting to connect her movements and actions to what the sheep are doing. She is just as reluctant as the first puppy to come off the field at the end of her session.